Eddie (born May 15, 1990) is Martin's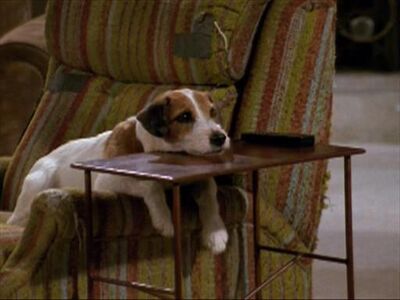 large Jack Russell Terrier. Eddie was originally played by Moose., and later by Moose's son Enzo.
Eddie is known for responding to Martin and Daphne with human-like understanding, but often seems to taunt Frasier. In one episode, Three Dates and a Breakup, Eddie eats the meals Frasier prepared for his dates as if he, Eddie, knew that Frasier's dates would not be staying for dinner. An early recurring gag had Eddie staring unceasingly at Frasier, often wanting something, to Frasier's increasing annoyance. Frasier's ex-wife Lilith is the only one who scares Eddie and whenever she's around Eddie does exactly as Lilith says.
Eddie is often featured in the closing sequences of a show, when the closing theme is played/ sung and the credits roll, in a short vignette generally related to a joke from earlier in the episode.
Eddie's birth date was originally given as May 7 but was then changed to May 15 in the final episode, "Goodnight Seattle".
Eddie's intelligence and capacity to learn tricks are very inconsistent, sometimes being incapable of learning to sit and at other times looking left and right on Martin's command. It was once shown that the only word he understands is his own name but other times he seems to understand exactly what he's being told.
In "The Unkindest Cut of All" a neighbor brings over a box of puppies that she claimed Eddie sired. Frasier, who had not thought that Eddie was entire, subsequently manages to give them away, and insists that Martin have Eddie neutered.