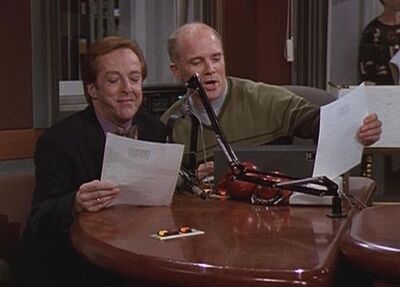 Gilbert "Gil" Leslie Chesterton
(Edward Hibbert) is a food critic and host of the show Restaurant Beat on KACL.
A pompous, catty, effeminate, overrefined character with an upper-class English accent (which Frasier mentions on one occasion is an affected accent), believed by his coworkers to be in the closet, Gil claims to be married to Deb, a "Sarah Lawrence graduate and the owner of a very successful auto body repair shop" (and an Army Reservist), whom his co-workers had believed to be merely a pet cat. Much of the humour related to the character stems from his adamant denial of his supposed sexual orientation, along with his general snarkiness. In a final season episode in which a misunderstanding results in Frasier being publicly (and falsely) outed on the air after being spotted at a local gay bar, Gil is seen covertly entering the same bar in the episode's credits. In one episode, Frasier is disturbed to find that he is having heavily symbolic and vaguely sexual dreams about Gil. Frasier comes up with various interpretations, hoping to prove that the dreams don't actually mean he is attracted to Gil on some level, but in the end none of the interpretations is satisfactory.
Gil drives a red BMW with a red interior and is almost always seen wearing his trademark bow tie. It is also revealed in one episode that he wears an ankle bracelet. He claims to be a veteran of the armed services (he once refers to having "seen some cruel pranks in the Army"), and his taste buds are insured. His last appearance is in the show's two part finale "Goodnight, Seattle" where he is seen along with Kenny Daly, Roz, Daphne, Bulldog, Bebe, Noel, Martin, Ronee, Niles and the rest of the KACL staff watching Frasier do his farewell speech.
The character is named in honor of the real-life Gil Chesterton, a former journalism teacher (now retired) at Beverly Hills High School. One of the series' producers, Christopher Lloyd, had been Chesterton's student