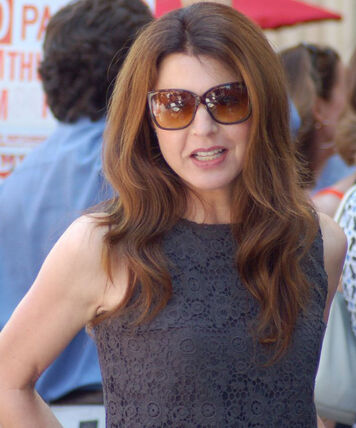 Jane Leeves (born 18 April 1961) is an English film, stage and television actress, comedienne and dancer.
Leeves made her screen debut with a small role in the 1983 popular British comedy television show The Benny Hill Show. Leeves moved to the United States, where she performed in small roles until she secured a recurring part in the television sitcom Murphy Brown. In 1986–1988, Leeves garnered her first leading role in the short-lived sitcom Throb and, in 1993, achieved wider fame as Daphne Moon on the television sitcom Frasier for the entire run of the series, from 1993 until 2004, for which she was nominated for Emmy Awards and Golden Globe Awards during the show's run. She received further recognition for her performances in Miracle on 34th Street (1994), James and the Giant Peach (1996), Music of the Heart (1999) and The Event (2003).
More recently she has worked in television production, but beginning in June 2010, Leeves returned to acting, as Joy on TV Land's sitcom Hot in Cleveland.
Personal Life
Edit
She has been married to Marshall Coben, a CBS Paramount Television executive, since 21 December 1996, and they have two children. Daughter Isabella Kathryn Coben was born on 9 January 2001, and the pregnancy was written into the Frasier plotline as a weight-gaining problem for Daphne Moon. Frasier co-star Peri Gilpin was in the delivery room when daughter Isabella was born and is Isabella's godmother; Leeves is also godmother of Gilpin's daughter Stella. The two live next door to one another in Los Angeles. Her son Finn William Leeves Coben, was born on 19 December 2003, and both David Hyde Pierce and John Mahoney are his godfathers.