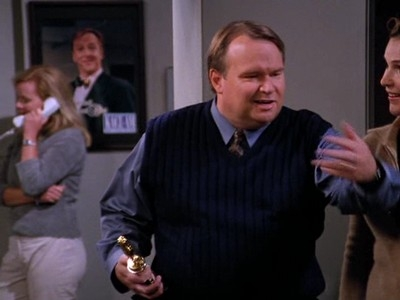 Kenny Daly (Tom McGowan) is a long-time radio man; apparently a successful DJ in the past, in 1993 he was reduced to delivering pizzas as he was out of work at the time. Kenny was married with at least 3 children, but got divorced in 2003, following which he suffered a breakdown.
Kenny becomes the new station manager of KACL in 1998. A likable and relaxed manager, he soon becomes friends with all the staff there. When he took over in "Sweet Dreams", he gave Frasier the ultimatum of doing an ad he couldn't endorse or be fired. Kenny fires Frasier but rehires him an hour and a half later. Kenny then goes to station owner Joe Martin to tell him about Frasier's complaint and is fired (this is the time that KACL becomes an all-Salsa station as Joe Martin, inadvertently inspired by Frasier, goes back to his birth name, José Martinez, and rediscovers his Latin roots). Kenny occasionally performs the unscrupulous acts of his predecessors, such as firing and lying to the talent, but often feels guilty and admits to it shortly afterward. Kenny is fairly lowbrow and has tastes and pleasures similar to Martin Crane, which occasionally grates against Frasier's more refined sensibilities.
Kenny resigns as station manager after deciding to go back to DJing, and Roz is appointed as his replacement. He is last seen, along with Frasier's family, friends and KACL staff watching him do his farewell speech.