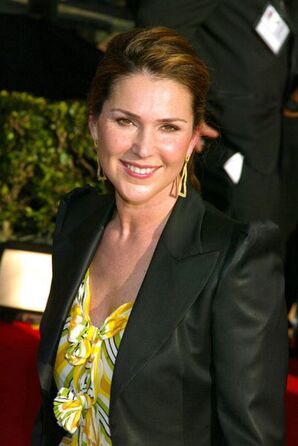 Peri Gilpin (born Peri Kay Oldham, May 27, 1961) is an American actress. She played Roz Doyle in the U.S. television series Frasier from 1993 until 2004. Along with the principal cast, Gilpin won a Screen Actors Guild Award for Outstanding Performance by an Ensemble in a Comedy Series in 2000. She has also received a Gracie Award in the category of "Outstanding Female Actor in a Supporting Role in a Drama Series" for her performance in the ABC Family drama Make It or Break It.
Personal Life
Edit
Since her mother's death from leiomyosarcoma cancer, Gilpin has led efforts for cancer research via the Sarcoma Foundation. Peri's sister, Patti Jo Wynne, and her step-siblings by her mother's second marriage, Marc and April Gilpin, also are actors.
Gilpin married the realist painter Christian Vincent on July 31, 1999. The couple have twins, Stella May and Ava, born via a surrogate mother on May 7, 2004. She is godmother to Frasier co-star Jane Leeves's daughter Isabella, and Jane is godmother to Peri's daughter Stella. Peri and Jane also live next door to each other in LA.