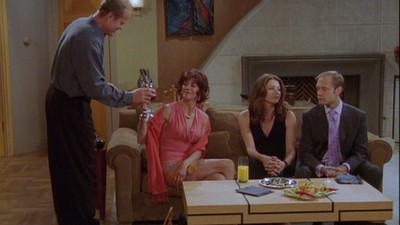 Veronica "Ronee" Lawrence Crane (Wendie Malick) is Niles and Frasier's old babysitter, and the first woman to break Frasier's heart (he used to watch her kiss her boyfriend through the balusters). She is also responsible for Niles' compulsive furniture-wiping, as she told him stories when he was a child about earwigs laying eggs on all the furniture, which would hatch, crawl into his ears, and eat his brain.
In 2003 she meets Frasier by chance and eventually she and Martin fall in love (as a teenager she had a crush on him) and get married on May 15 (Eddie's birthday) the next year in the show's final episode, Goodnight, Seattle.
She released an album called Mood Swings, and works as a lounge singer and pianist at the Wellington Club. Ronee drives a red 1959 Cadillac Eldorado. Her traditionally-minded, prudish mother lives in Spokane, Washington.