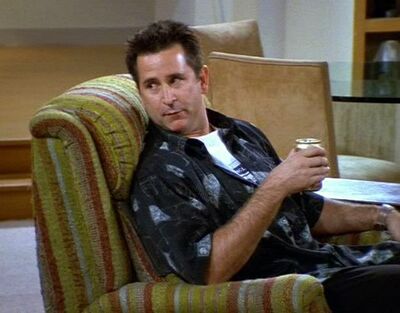 Simon Moon
(Anthony LaPaglia) is one of Daphne's brothers. An obnoxious and boorish heavy drinker and layabout, Simon has a difficult relationship with his sister, largely because of Simon's uncouth and selfish nature. He is greatly disliked by both Frasier and Niles, partly because of their class-conscious nature but also because when in Seattle he frequently stays with one of them, often taking unreasonable liberties with regard to their homes, possessions and alcohol supplies in the process. Conversely, he gets on quite well with Martin and, despite his many negative qualities, is quite a popular man who is very successful at attracting women.
Roz is quite taken with him (and he with her) at first, but she eventually catches on to his ways and rejects his advances. Simon views her as a sex object, yet always forgets her name. During the ninth season episodes in which he appears, he constantly calls her "Rose." Roz does not care enough at that point to even correct him.
Simon appears in nine episodes. Like the majority of the Moon family seen on the show, he does not share a Mancunian accent with Daphne: the Australian LaPaglia imitates a London 'cockney' accent. He does, on occasion, wear a Manchester United t-shirt.